You are here

Asset Allocation
Asset Allocation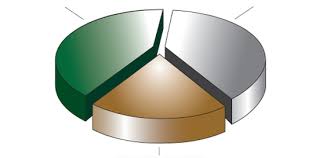 Asset allocation is the process of selecting a mix of asset classes that closely matches an investor's financial profile in terms of their investment preferences and tolerance for risk. It is based on the premise that the different asset classes have varying cycles of performance, and that by investing in multiple classes, the overall investment returns will be more stable and less susceptible to adverse movements in any one class.
All investments involve some sort of risk, whether it's market risk, interest risk, inflation risk, liquidity risk or tax risk. An individualized asset allocation strategy seeks to mitigate the risks of any one asset class though diversification and balance. This reflects the investor's comfort level with market fluctuations that can result in losses. Inflation risk and interest risk need to be considered as well.
We compliment asset allocation with Proprietary Analysis. To find out more about this exceptionally important piece of our process please go to this link. Proprietary Analysis
Individual Strategy
When done properly, an investor's allocation of assets will reflect his desired goals, priorities, investment preferences and his tolerance for risk. Asset allocation is an individualized strategy, so there really is no perfect mix of assets. Each individual's strategy is built on the careful consideration of the key elements of their financial profile:
Investment Objectives: What it is the investor hopes to achieve using his investment dollars – improve current lifestyle; achieve capital growth; fund a specific goal, such as a college education
Risk Tolerance: This reflects the investor's comfort level with market fluctuations that can result in losses. Inflation risk and interest risk need to be considered as well.
Investment Preferences: An investor may prefer one asset class over another based on a certain bias or interest towards the characteristics of that class.
Time Horizon: The length of time an investor is willing to commit to achieving his objectives.
Taxation: Investing in a mix of asset classes will have varying tax consequences.
Risk, Properly Defined
In our opinion, one of the biggest obstacles to successful investing is how investors define "risk"? We are not just talking about volatility, but the idea that a stock is "too high" or "overvalued" or "overbought". We hear these terms being talked about all the time by analysts as they warn us about the risks of staying in a certain stock because it has risen too much. First of all, no matter what metrics you use to define when something has risen too much, ultimately it is their best guess and nothing more. The market will always have the final word on when a stock's rise will end. But the million dollar question is how do you define a significant change in trend direction that aligns with the market? Just because a stock has risen 50%, or reached its new 52 week highs, or looks overbought from a technical perspective doesn't mean its longer term trend is ending. The amount of money left on the table using these subjective metrics is substantial. Successful investing not only requires a disciplined approach to buying and selling, but also knowing when to hold on and not sell too early.

We define risk from a relative strength perspective, meaning that when the longer term price action of a stock falls "relative" to its peer group, this is indicating that the supply/demand relationship of that stock is becoming more unfavorable and therefore its risk is increasing. Supply/Demand is ultimately driven by "money flows" so the relative price action of stocks is actually the markets footprints on where money is flowing. This is key because you cannot analyze anything in isolation, it must be analyzed as part of the whole in order to get a true perspective on what is happening in the markets. Falling stock prices don't mean anything by itself, but falling prices "relative" to all other stocks means that money is flowing out of that stock relative to everything else and therefore this becomes an objective indicator that shows changing supply/demand characteristics for that stock. Hitting 52 week highs doesn't mean the stock is more risky as long as it is still showing more favorable supply/demand characteristics than the rest of the market. This is how we define "risk" that actually aligns itself with a holistic perspective of the markets. Mutual funds are defined in the same way as they are simply a group of individual stocks."
An Evolving Strategy
A sound asset allocation strategy includes periodic reviews.
About the only certainty when it comes to the financial markets is that they will change, and so will your financial situation. Through market gains and losses, a portfolio can become unbalanced and it may be important to make adjustments to your allocation. As people move through life's stages their needs, preferences, priorities and risk tolerance change and so too must their asset allocation strategy.
Asset allocation, which is driven by complex mathematical models, should not be confused with the much simpler concept of diversification.
Learn more about asset allocation by contacting us today.